A studio is a compact apartment with no separate bedrooms. Studios are considered cheaper than the regular 1- or 2-bedroom apartments. Finding cheap studio apartments in Houston can be difficult, but not impossible. If you are a bachelor looking for a small residential unit, you can always opt for a studio.
Apart from being in budget price, studios are compact, so need lesser time and effort to maintain. Since the carpet area is lesser than a proper apartment, you don't have to maintain a huge space. Additionally, a bigger apartment would make you feel lonely, while studios are quite cozy. the layout is quite different than the usual apartments, but studios can be fun when you know you only have a separate bathroom area. A studio apartment is precisely a single room that has been converted into a studio with an open kitchenette and a partitioned bedroom.
Also Read: How to find the best apartment within your budget?
Size of a studio apartment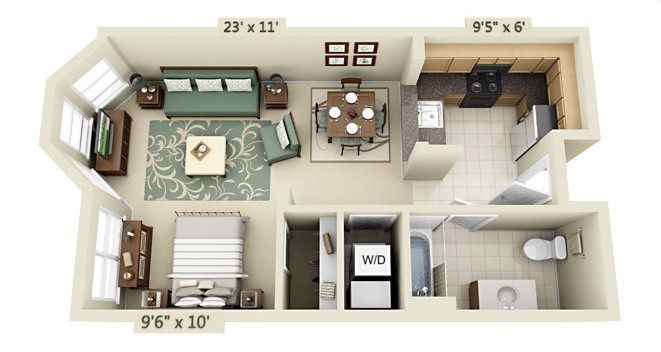 A studio is a compact unit that has a total carpet area of 300-600 sq. ft. Getting a studio with more than 600 sq. ft. carpet is rare, but you may find one in a posh complex if you search well.
Benefits of living in a studio apartment
If you are living in a shared apartment, shifting to a studio apartment can be beneficial, as it provides you all the privacy you deserve. You don't have to share your stuff with anyone, and you can call your friends for a sleepover too, without disturbing your partner. So, if you plan not to share your apartment and want budget accommodation, you can also look for studio apartments. Additionally, you can choose your preferred location as studios are available in luxury complexes too.
With studios, you get the benefit of living in an upscale locality without spending a fortune. If you are living in a studio, you can decorate it as per your imagination and define spaces. Many studio apartments have space-saving furniture installed, so you can enjoy the perks of living in a proper apartment without shelling out a lot.
Studying the floor plan beforehand
It is a good idea to study the floor plan before moving to an apartment, as it can show you the apartment's aerial view and you would be able to understand where your kitchen, bathroom, and bedroom are located and where can you place your furniture and gadget. Moreover, if you are scrutinizing the apartments, it would be one of the deciding factors on whether you can get the apartment or not. A floor plan is incomplete without the dimensions.
You need to know it because it would decide whether you and your family would live comfortably in a given space. Ask for the square footage of the place and consider the studio size before moving in. The layout must be practical and ergonomic. For example, the kitchen should not be bathroom-facing or vice versa. Or, the bathroom and kitchen must be positioned in a manner that they hardly get into the bedroom's space.
Make sure the kitchenette area allows a small, foldable dining table. The kitchen area must be well-ventilated, and there should be enough natural light coming in. Make sure you have generous closet space and storage built in to store all your essentials as it is difficult to declutter a studio because of the space crunch.
Finding studios online Seeking cheap studio apartments in Houston can be difficult if you are doing it all by yourself. However, searching online can make the task much convenient. Hire the best properties in the most exceptional locations through online searching. Make a comprehensive list of apartments, and start scrutinizing as per your requirements. You can stay in a budget-priced apartment if there are price constraints. You can also choose a luxury complex with parks, pools, libraries, and other amenities nearby. You may choose a fully furnished studio or a partially furnished one as per your budget.