Sunflowers are a favorite among tattoo lovers because they are colorful, bright, and cheerful. They're also very easy to ink and can be a great way to express positive energy.
They can be a stunning option for any tattoo design, from small, single-needle pieces to enormous, complete sleeves. This article will examine some of the most well-liked sunflower tattoos and explain why they're so popular.
Colors
Sunflowers are one of the most popular flower images to tattoo. They represent devotion, happiness, and optimism.
Choose vibrant colors that mimic the flower's radiance to make a realism sunflower tattoo. You can also use muted tones if you prefer a more minimal look.
Alternatively, consider a sketch design to create the illusion of a real flower. This is especially effective for back tattoos, where the radial structure of a flower can be brought into focus.
This example of a watercolor-style Sunflower tattoo uses subtle shading and fine lines to impart a feminine feeling. The space between the petals and stems is also beautifully detailed, enhancing the design's realism.
These designs are a great option for any woman seeking a tattoo representing her spirituality and femininity. They also complement any other tattoo on the body and are ideal for the sleeve or back.
Shapes
Sunflower tattoos are among the most popular choices because they are uplifting and cheerful. They can remind you to be optimistic and look forward to life's challenges.
These tattoos also look great on various body parts, including the shoulder, chest, leg, and arm. They can be small or large, and they can also have a lot of details like color and shading.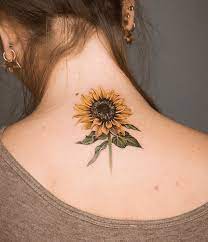 Many people choose sunflower tattoos because they are cheerful and love to smile. They have a strong faith in themselves and are optimistic about their lives.
A realistic sunflower tattoo is a good choice for those who want a more detailed design. This type of art often involves sparse, meticulous shading and light outlines to give the appearance of depth.
Symbolism
Sunflowers symbolize good luck, joy, happiness, and optimism. They are often found in quotes or one-liners to help you remember to always look on the bright side.
For everyone who appreciates the color and elegance of this flower, a sunflower tattoo is a fantastic option. Anywhere on the body can accommodate its flexible design.
Adding geometric shapes can also contrast your tattoo and give it more character. For example, a sunflower tattoo with a pentagon or a triangle is an interesting and striking addition to your tat.
You can combine this style with a realistic sunflower tattoo to create a stunning depiction of life and the sun-inspired meaning behind the flower. This type of design can be a beautiful and impressive work of art that will impress those around you!
Versatility
Sunflowers are among the most popular tattoo choices because they can be incorporated into many designs. They can create a large piece, potentially a sleeve tattoo, and smaller pieces on the wrist or ankle.
If you are considering getting a sunflower tattoo, choose a design that suits you. If you need more clarification on what you want, most artists will be happy to discuss what you're looking for before they start working on your tattoo.
Realistic tattoos take a lot of time and skill to complete, and they require an artist with extensive training in perspective, light, shadows, and anatomy. They also must have a keen sense of detail and be extremely patient. An artist must portray the subject correctly so that the image will look off and match the client's expectations.