Who wouldn't want to enjoy the Gulf of Mexico with the wind in their hair and the waves lapping at their back? The majority of residents relocate here to be closer to the beach or to fish and spend the day on their boats. I know I enjoy spending a warm day on the water with my pals.
Fire safety onboard your yacht is essential, whether you just want to relax or make a living off the sea. The majority of boating accidents are caused by an electrical failure that ends in a fire. They can, however, be easily avoided with properly functioning fire protection.
We all know that setting fire to water is a poor idea. No one expects a fire to break out on their boat. A shipboard fire can not only destroy your boat or business, but it can also result in the loss of lives. Whether your yacht needs a comprehensive marine fire suppression system or your fire extinguishers need to be cleaned and replenished, we can help.
What is the concept of a boat fire suppression system?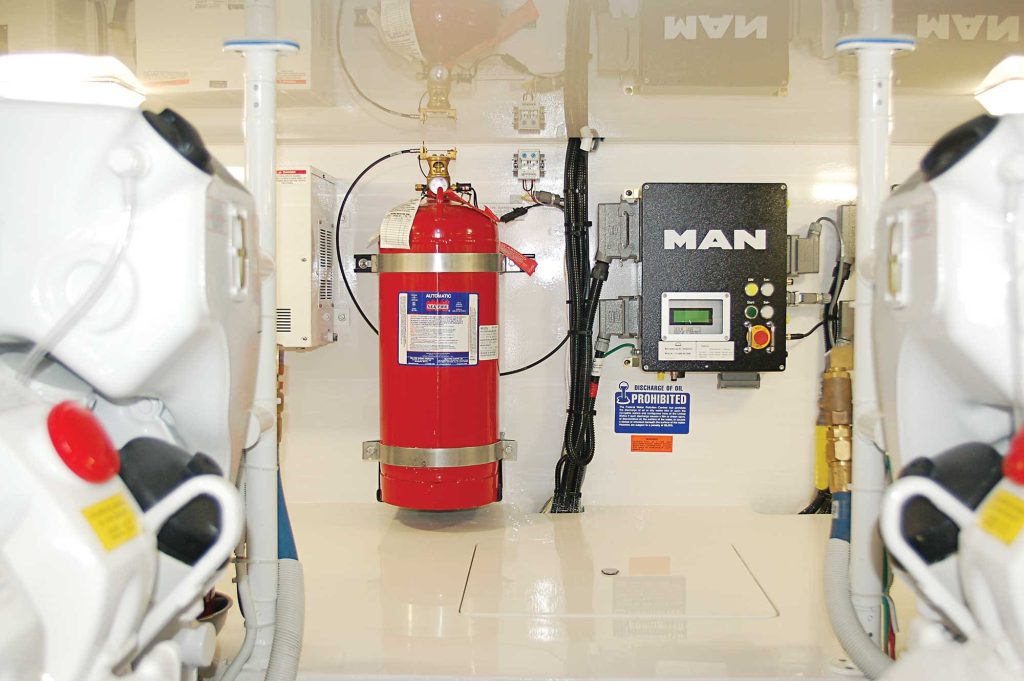 A boat fire suppression system or fire suppression systems for maritime applications, such as boats and ships, are used to extinguish, control, or, in rare situations, completely prevent flames from spreading or occurring.
Marine Fire Suppression Systems Composition
HFC-227 or FM-200 fire suppressants, which are less environmentally hazardous alternatives to old-school fire extinguish ants, are extensively used in fixed marine fire extinguishing systems.
Many of these devices can be actuated manually or automatically via a temperature sensor. It's vital to note, too, that if a fixed system triggers while you're on the move, you must act swiftly to shut down engines, blowers, generators, and other equipment, as they may require new oxygen to resume while the fire suppressant is being expelled from the intake system.
Putting it in the proper place
Because they are made up of only a few key components, fixed fire-extinguishing systems are usually simple to install. The following are some important installation details:
The nozzle and trigger should be placed as close to the centerline of the ceiling as practicable, and as far away from air intake vents and blowers as possible. The cylinder must be mounted securely.
On diesel boats, automatic-relay shutdowns for the engine, generator, and ventilation system should be installed and are required to meet ABYC requirements.
How often fire suppression systems should be replaced?
Some must be replaced after a few years, while others do not. Hydrostatic testing of 6061-T6 aluminum cylinders is required every 12 years. Most cylinders, on the other hand, can be kept in operation indefinitely if they pass a 5-year visual inspection done by a service technician with a requalification identification number (RIN) following 49 CFR 180.209. (g). If a cylinder is discharged that is more than 12 years old, it must be hydrostatically tested or replaced.
In a marine fire suppression system, what gases are present?
Carbon dioxide, argon, nitrogen, bromotrifluoromethane, Inergen, Argonite, Novec 1230, Heptafluoropropane, HFC-125, FE-13, and other gases are commonly used in marine fire suppression systems.
When should you inspect your sea fire system?
The majority of manufacturers, including Kidde, Fire boy, and Sea-Fire, recommend having your system tested and weighed every six months at the very least. The Coast Guard, on the other hand, merely requires an annual inspection of your vessel's suppression system.
Finally, we may conclude that a marine fire suppression system should be implemented in every marine application. After every 4-5 years, they should be examined. Before establishing a marine fire suppression system in a maritime application, we should consider the considerations given above, or we should employ a professional to do so.
That was it for this article. If you found it helpful, consider checking out our blog STORIFYGO!