One Page Checkout, a PrestaShop theme, focuses on cutting away certain extra steps while the user completes the checkout. Low conversion rates are the largest problem in e-commerce because so few visitors actually go through the entire purchasing process. In particular, at Themevolty, we can see the frequency.
If I'm referring to abandoned carts, then 10 out of 100 customers do so since the checkout procedure takes so long. People spend a lot of time filling out the registration form, entering their addresses, and providing shipping information, which causes them to leave the page and decline to place an order.
There is no denying that the Prestashop theme One Page Checkout process is far faster than the Multi-Page Checkout process. AJAX is included in the checkout process, making it quicker and more effective. It is 2x faster than multi-page checkout if we think about it more quickly. Users won't be distracted or have a change of heart. AJAX is a response with a real-time and more interactive checkout experience, so user interaction is quick.
The checkout procedure for Single Page Checkout can be completed with simple navigation. In terms of design, the checkout process has a lovely and modern appearance. The one-page checkout options can be easily enabled and disabled by the administrator.
One Page Checkout PrestaShop theme Installation:
Go to Backoffice and click on Module Section and Upload a Module.
Upload this zip of " One Page Checkout "
Wait Till Installation is Successfully done.

General Features: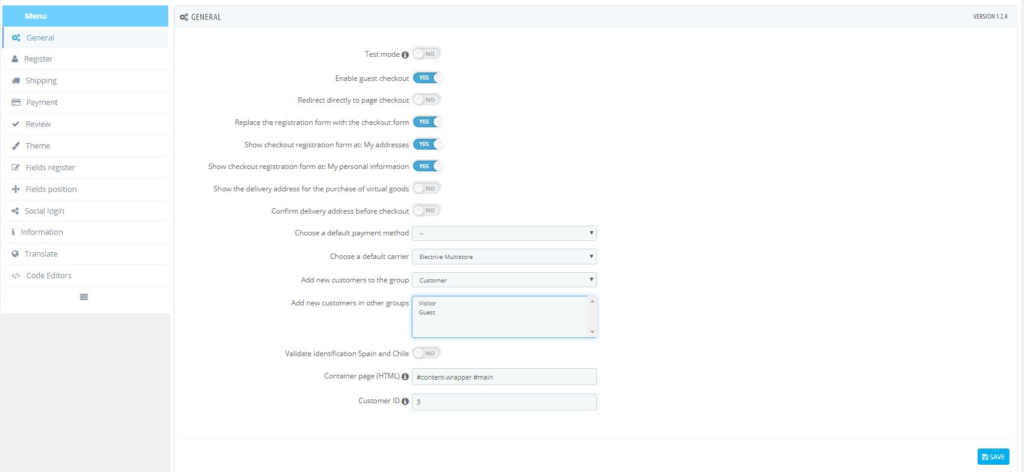 Admin has the ability to enable/disable multi-page checkout whenever you wish, so you can move at any time.
Admin is able to manage Test Mode For the sake of testing, yes-no.
When a user buys a product, the administrator has the option to employ the guest checkout option.
Admin can choose to redirect directly to the checkout page.
The administrator can replace the registration form with the checkout form, for example, if they so choose.
While the administrator has the option to display the registration form at my address if you want to change your position.
The administrator can manage it from general settings if they wish to confirm the delivery option before the checkout.
Select the default payment option, such as Wire Payments [PS CheckoutPayment].
Select Other Store Settings or the default carrier.
The administrator may create new client groups, such as customers, visitors, and guests.
For the Countries of Chile and Spain to Validate and Identify.
Comparable to Container Page [HTML] [It is advised to leave this field's default values in place unless your template requires a different identification to be used]
Customer Ids [like 3, 5, 24] can be added by the admin.
Register Features: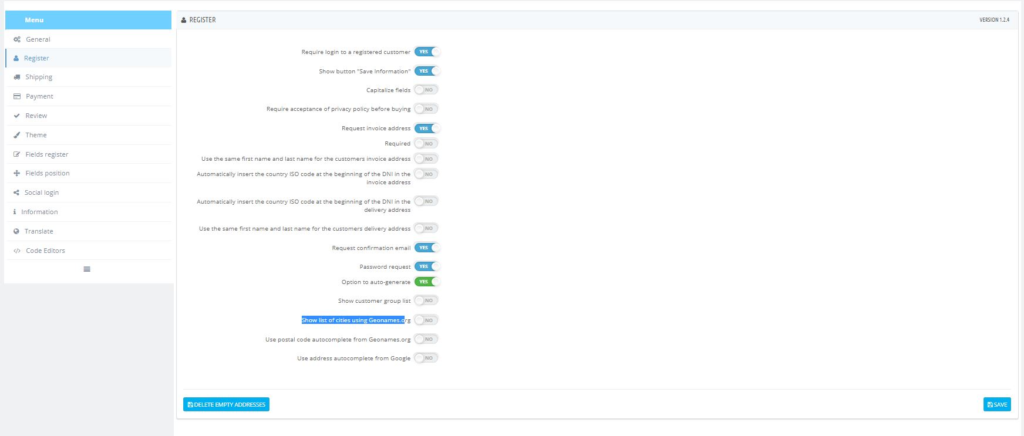 Require login to a registered customer [ Yes – No ]
Sometimes we need to save information so the admin can handle this feature.
Always Capital Chractor looks good so admin can capitalize field [ Yes – No ]
Every website has a policy that Requires acceptance of the Privacy Policy before buying.
If the admin wants the request to the Invoice address before buying this can also handle with Yes – No.
The next one is that Directly if you press Yes for the use Same First name and last name for the customer invoice address.
Yes – No with automatically ISO code for the beginning of DNI settings.
Yes – No with automatically ISO code for the beginning of DNI settings in the delivery address.
if you want a request for the confirmation mail then the admin can do it with Yes – No.
Password Request with Yes – No
Option for the auto-generated password [ Yes – No ].
Show Customer group list with Yes – No if admin wants to show group list of every customer.
GeoNames.org provides the city list then the admin can get all lists of cities with GeoNames.org [ Yes – No ].
Same use Postal codes autocomplete from GeoNames.org [ Yes – No ].
Same use address autocomplete from Google [ Yes – No ].
Shipping Features: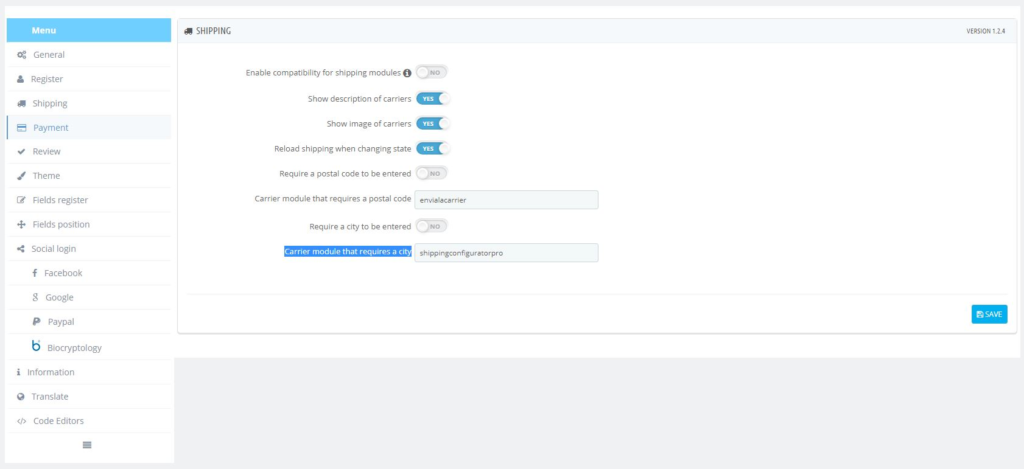 Administrators can select Yes or No to enable compatibility for shopping modules.
Display the carrying descriptions.
The administrator can display a carry image by selecting Yes or No.
When a feature's state changes, reload shipping by utilizing the AJAX capability.
Admin can manage the requirement of a postal code for entry with a Yes/No click.
A postal code is necessary for Carrier Module.
The city must be entered.
modules for carriers that want the postal code.
Payment Features:
Payment features can handle in 3 Ways:
General
Pay Methods
Ship to Pay
General :
Show images of payments method with Yes – No
Show detailed description of payment Method with Yes No.
Pay Method [ Here you can configure the images, titles, and descriptions of the methods of payment. The recommended images size is 86×49 pixels ]:
PS_CHECKPAYMENT: With use of this you can Title and Description with an image that you need to upload.
PS_WIREPAYMENT: With use of this you can Title and Description with an image that you need to upload.
Ship to Pay [ Choose the payment methods that are available according to the delivery method. ]:
Select the MultiStore with Just Click on PS_Checkpayment and My Carrier.
Admin can Select and DeSelect with Checklist box of PS_CHECKPAYMENT AND PS_WIREPAYMENT
Review: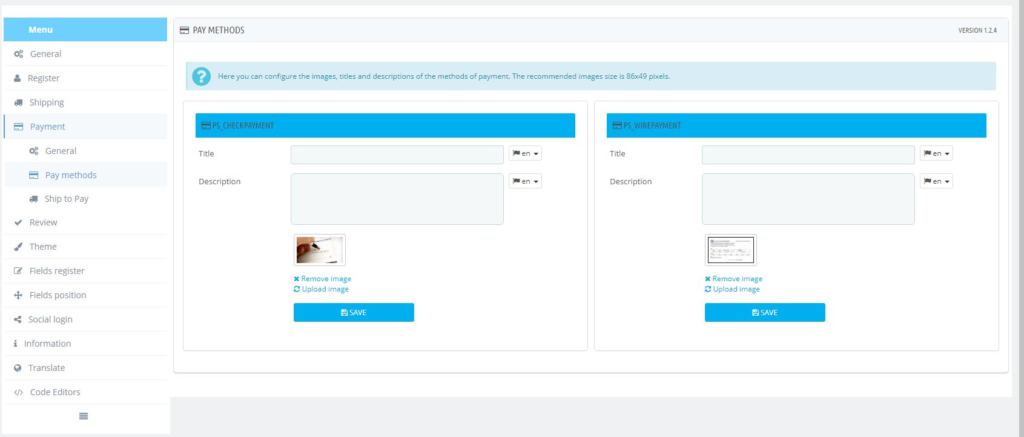 Before you can buy, you have to click on Yes or No to agree to the terms and conditions.
Yes–No: Show the "Continue Shopping" link.
Custom URL for the button that says "Continue Shopping."
admin can handle Show Discount Box
Show the Yes–No order message.
Admin can remove the link from the products by selecting Yes or No.
Show zoom on the picture of the product.
Show the subtotal for each item.
The total amount saved.
Show the total for gift wrapping
Review also has a lot of other things to offer.
Theme Customized:
Every color option in the theme customization option can be customized by the administrator:
Background colour
Border colour
Colour of images
Text colour
The background colour of the selected blocks
Text colour of the selected blocks
Checkout button colour
Text colour of the checkout button
Already register button colour
Already register text button colour
Login button colour
Login text button colour
Voucher button colour
Field Register:
Manage the Field and add a new field from admin.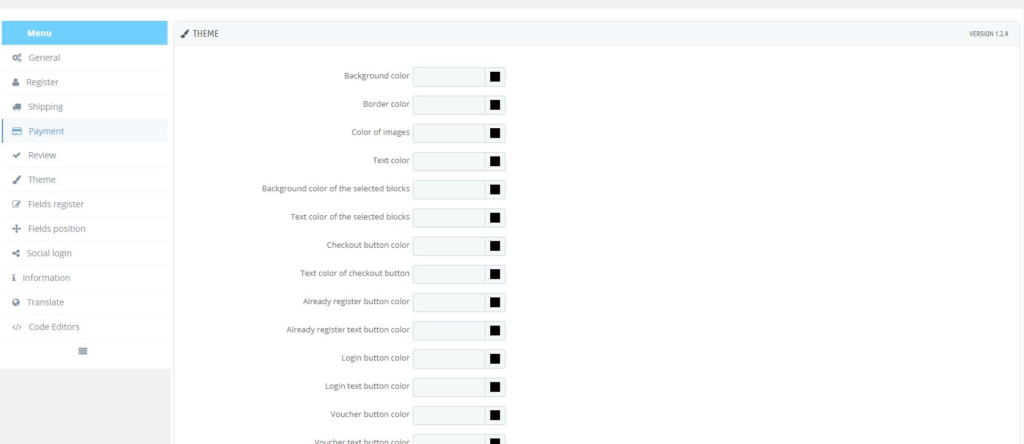 Field Position:
It's an awesome feature to change the field position with just a drag and drop:
Drag and Drop field position of Three:
Customer.
Delivery.
Invoice.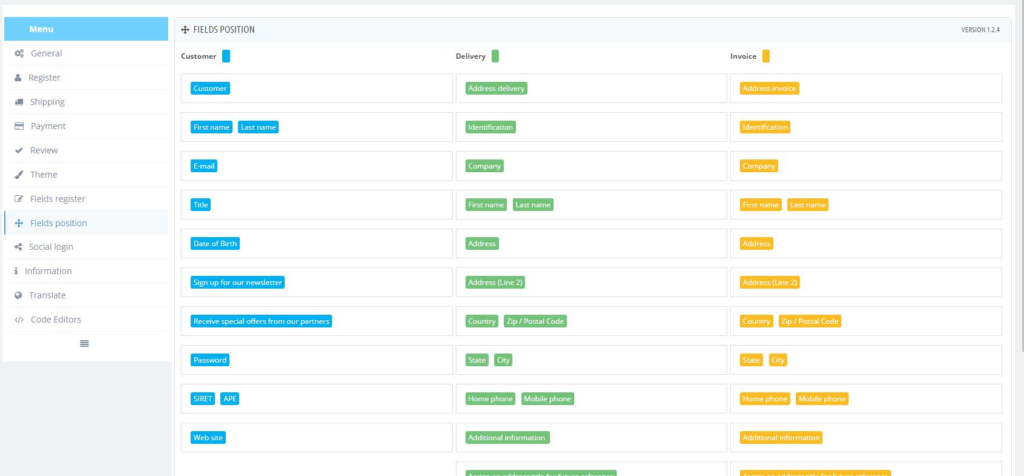 Social Login :
Customers can log in with popular social sites like:
Facebook
Google
PayPal
Others.
Code Editor:
Admins can use the Code Editor to add custom CSS and custom JS.
Two boxes are available:
Override.CSS
Override.JS
Translate:
Any language admin can translate and save and share the translated text.
Also: Themevolty.com offers eCommerce Prestashop Themes and a Prestashop Translation Module.
How Looks of Front View :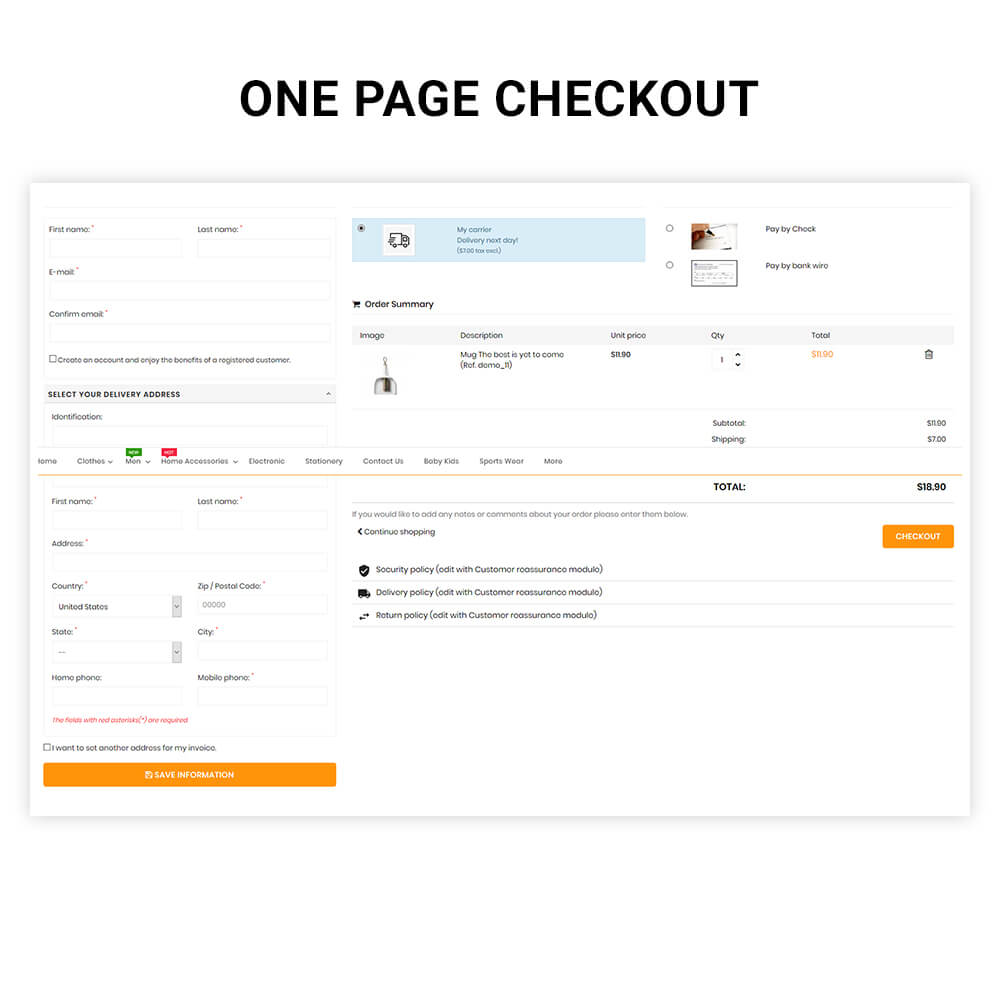 Just take one sip of orange juice if you like, and grab this functionality and all its features.
This is all about the One Page Checkout Prestashop theme.
We love to provide support, and it's just awesome to see here and read a blog.